Having completed the new Crédit Agricole site in Titres à Mer (Loir-et-Cher), Abellio for Crédit Agricole Real Estate in Toulouse, the "Village by CA" also in Toulouse, and a building for Crédit Agricole Alsace-Vosges, GA Smart Building has renovated a new corporate building for Crédit Agricole in the heart of Toulouse.
Spanning 11,000 m² in G+7, the head office of Crédit Agricole, Toulouse 31, has, since November 2019, welcomed 400 employees daily.
A company building renovated from A to Z by GA Smart Building
28 months: the total time required to fully refurbish the building (including repair and asbestos removal works), designed by PPA Architecture, Scalene architects and ABC Architecture. It was in April 2017 that the renovation project actually began, with the launch of a call for tenders, to which GA Smart Building was invited to respond. At the end of June 2017, GA was named winner of the invitation to tender.
Just the right blend of work and well-being
With its company restaurant, gym, and 3-level underground car park, the real estate project was designed to facilitate daily life for its users and meet multiple criteria under the "Well" certification system. Special attention was paid to acoustics, with the installation of a high-performance false ceiling. A "Village Square", extended by a vast wooden terrace, has been crafted on the ground floor as a place where employees can meet and interact. Lastly, two terraces will be open at the G+4 level, where workers can enjoy a breath of fresh air at any time.
Optimised energy performance
The completely renovated façade consists of ventilated double-skin metal joinery blocks with built-in electric blinds, assembled in the factory and installed by Paquet Fontaine. Heating and cooling are provided by a network of cold beams in the false floor. As for the lighting, ergonomic installations will regulate the lighting depending on the levels of natural light, while also taking into account the site's occupancy rate. The site thus renovated aims for HQE certification at an exceptional level.
An office building built in FullBIM mode
The construction project was conducted using the proprietary FullBIM process, developed by GA Smart Building, which includes a digital 3D model that offers, at each stage of the project, an unparalleled degree of understanding of the buildings. The model, compiling all information about the buildings and their functioning, was given to Crédit Agricole's teams upon the project's completion.
Regarded as an innovative project, the renovation of the Crédit Agricole Toulouse 31 head office was awarded the 2021 Clé d'Argent in the Clés d'Or competition at the national level and the Clé d'Or in the Occitanie / Midi-Pyrénées region.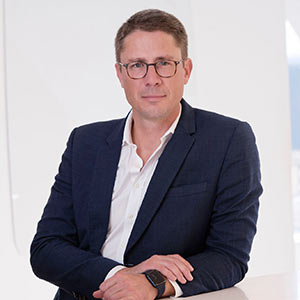 Contact
Sébastien Launay
Head of Corporate real estate