We are committed to making a positive impact on the environment, cities and life.
The real estate and construction sector alone is responsible for 40% of CO2 emissions in France. It is up to us to take action.
As France's number one off-site construction company, we have adopted a sustainable strategy in line with the values we stand for and that will meet the major environmental and societal challenges of the future.
Our objective is positive design and construction.
Our objective is intelligent and sustainable buildings which improve quality of life and preserve the environment.
In order to reduce the carbon footprint of our activities, we have acquired Ossabois, France's leading wood and modular construction company.
In the face of dwindling natural resources, we prioritise secondary raw materials or those from the circular economy.
Our objective is to play an active role in fighting climate change, maintaining biodiversity and keeping growing urbanisation under control.
Our off-site construction method enables us to utilise "soft construction sites".
Alongside less environmental impact and less noise pollution for local people, they also improve conditions for construction workers.
We take into consideration the air breathed by the users of our buildings, their views and their ambitions.
Aware of the importance of quality, comfort and design, we are targeting emerging labels in the well-being sector including OsmoZ and Well.
We imagine cities that make more space for green areas, shared gardens and the development of urban agriculture. A tangible example of our commitment is the 15,000 m² real estate project known as "NOW Living Spaces" enabling its future occupants to work in touch with nature.
Air quality is one of our areas of research in the design of our buildings and our air handling systems.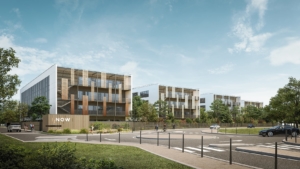 We are integrating digitisation and the changing workplace with the focus on increasing well-being.
We are investing to ensure digital migration in our trades and projects, thanks in particular to the rollout of FullBIM, the 3D digital model we use from design to operation in our projects. The use of data and digital access to services is widespread throughout our range of products and services.
This major collective adventure is being shared within a committed and positive community.
This kind of positive impact objective is only possible if the entire GA Group is behind it.
Our shareholder model based on employee majority ownership is what makes us different and what gives us our strength.
It reinforces trust and everyone's commitment to a shared positive, visionary and responsible company contributing to the development of the surrounding region.
By prioritising quality of life and preserving the planet.