Renovation means giving existing buildings a new life whilst respecting current energy requirements
The GA Group renovates your property to add value to it and improve the well-being of its occupants. This approach allows you to reposition your property on the market, optimise rental spaces or change the building's function.
With administrative and financial advice, accompanied by the analysis of the technical aspects of the renovation and pioneering, high-performance adapted solutions, GA Smart Building is at your side during every stage of your renovation project.
Whatever the project, no matter the size.
Renovating is also innovating
We carry out four types of building renovations:
Renovation with the technical, innovative, flexible and rapid Newskin solution
The Newskin renovation solution replaces the old facade of the property with a new technological shell which integrates all exclusive GA equipment: triple glazing, with an integrated blind and air treatment units.
The facade is redesigned and accommodates all kinds of building technology. The false ceilings are removed, which increases the volume of the space. Thermal and acoustic comfort is optimised.
Equipped with a Galaxy Pilot control and consumption monitoring system, renovated property then becomes 'smart'.
This was the case for the 115 Arche office building in Courbevoie and the Banque Populaire l'Occitane in Albi.
Traditional renovation
We also carry out so-called 'traditional' renovations for Haussmannian buildings, like 16-18 Avenue Georges V in Paris, as well as for projects like the 'Tour Europe' in La Défense, a project carried out in partnership with Rudy Ricciotti, an architect from the Musée des Civilisations de l'Europe et de la Méditerranée (MUCEM) (Museum of European and Mediterranean Civilisations). We bring our strong proposals and capacity for innovation to these 'turnkey' projects.
Large and small-scale office developments
We offer administrative, financial and technical support for the development of your office buildings, in line with an architect and our Design Studio: development of floor space, partitioning, upgrading of floors, installation of a 'Meeting Box' like in the EDF Hydraulics Unit at Parc Oxford, Saint-Martin-leVinoux…
Renovation or extension of old GA buildings
We also update the buildings we have built in the past to the latest standards by replacing the previous GA equipment with our latest solutions.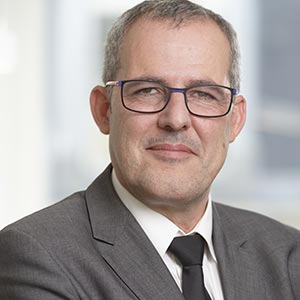 Contact
Gérard Gensane
Managing Director, GA Renovation