Frédéric Celdran, Managing Director of GA Promotion, and Robert Bouchard, Econocom's Chief Executive Officer, accompanied by Yannik Ollivier, Mayor of Saint-Martin-le-Vinoux, have just laid the foundation stone of the new expertise and digital support centre of the company Econocom in the Grenoble Métropole.
Located in the centre of the Oxford business park, across the river from the Grenoble science "peninsula", this new 4,365 m² property development designed by architecture firm Groupe-6 and constructed by GA Smart Building will be used by the teams of Econocom, a European group offering digital business services.
Planned to maximise user comfort and well-being, these new-generation, ultra-modern offices with high environmental specifications are targeting the "Very Good" rating set by BREEAM. They will also be compliant with the Effinergie+ label.
In addition to their bioclimatic design, the offices in the development will benefit from super-efficient building services managed by Galaxy Pilot®, the monitoring and control software developed by GA. Temperature, light and ventilation will be monitored and adjusted in real time to optimise the comfort and environmental performance of the building.
The industrial approach typically used by GA Smart Building will allow completion in just 12 months, while also minimising constraints and construction nuisance. In addition, like all projects completed by GA Smart Building, the project has been entirely designed using the FullBIM process developed by GA. The model produced is an exact digital replica of the building, providing unique understanding of the project at each phase of its execution: design, factory production, on-site construction and operation of the completed building. When delivered in January 2019, the BIM model will contain all relevant information related to building services such as operating instructions, maintenance guides and guarantees.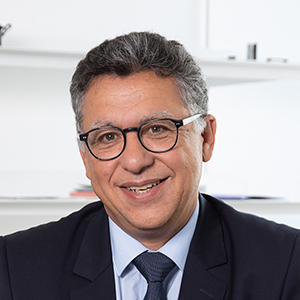 Frédéric Celdran
Managing Director, Development and Services unit
We are proud to have laid the foundation stone for this Econocom project in the centre of the Oxford business park, a site we know well as it's where we are also constructing the building for EDF's hydraulic unit. Enjoying a truly collaborative partnership with the town council of St-Martin-le-Vinoux and Grenoble-Alpes Métropole, GA Smart Building has leveraged its expertise in property development to exploit the potential of the site. Completion delivery of the building complex is scheduled for spring 2019.