Sébastien Matty, President of GA Smart Building and Olivier Bokobza, President of BNP Paribas Real Estate's development activities, laid the first stone of GARDENS, Up Group's future head office. Also present were Patrice Leclerc, mayor of Gennevilliers, Youssef Achour, Chairman and CEO of Up Group, Grégory Frapet, Chairman of Primonial Reim France's management board and Tom Sheehan, architect and co-founder of ORIGIN by ATSP.
Ideally located near the Les Grésillons RER C station in Gennevilliers and right next to the future line 15 of the metro, this new office project has many advantages, including the connection with line 14, just one station away.
With a surface area of 15,400 m² and a capacity of 1,400 employees, GARDENS will be developed over seven levels. It will offer more than 2,000 m² of accessible and planted outdoor spaces, including the rooftop, terraces and patios. The architecture was designed by ORIGIN by ATSP (Atelier Tom Sheehan et Partenaires) and the landscaping was particularly well thought out in partnership with the landscape architect, Emeline Brossard.
The property complex will offer high-level technical services and a range of facilities, including a fitness centre and a spacious 650 m² lobby, designed as a meeting place for Up Group employees. Reflecting the project's focus on comfort and quality of life, the panoramic restaurant and a conference area will be ideally located on the top level with direct access to the 800 m² rooftop. A car park with 300 spaces will complete the range of services.
The building will benefit from GA Smart Building's off-site construction approach, from FullBIM modelling, through prefabrication of structural elements, facades and comfort equipment in its French factories, to their assembly on-site. This construction method ensures quality of execution and control of deadlines, while minimising the environmental impact of the site and the nuisance to local residents. The building complex will also house sanitary modules, which will also be manufactured off-site in one of the French factories of Ossabois, a subsidiary of GA Smart Building.
GARDENS is a project with strong environmental, well-being and connectivity ambitions, reflecting the specifications of the Up Group. It aims for HQE®, BREEAM®, Ready to Osmoz and WIRED SCORE certifications and labels.
After being pre-let in its entirety under a 10-year fixed term BEFA (bail en l'état futur d'achèvement [lease in future state of completion]) in July 2020, the property was sold to Primonial Reim under a VEFA (vente en état futur d'achèvement [sale before completion transaction]) in June 2021. The work, which began in May 2021 – after the building permit was obtained in January 2021 – will be completed in 23 months, with the Up Group teams moving in in spring 2023.
Frédéric Celdran
Managing Director of the Development and Service Division of GA Smart Building
We are pleased to lay the first stone of the future head office of Up Group. It marks the future establishment of a third major company – after Audika and BALAS – on this site, which is the result of work carried out in close collaboration with the SEMAG92 (Société d'Economie Mixte d'Aménagement de Gennevilliers [public-private enterprise in charge of the development and construction of Gennevilliers]) over many years.
Olivier Bokobza
President of BNP Paribas Real Estate's development activities
The GARDENS project is a perfect example of our ambition to be environmentally exemplary. We have a responsibility to provide our clients with sustainable and resilient buildings that will fit into the city of the future and GARDENS aligns perfectly with this strategy.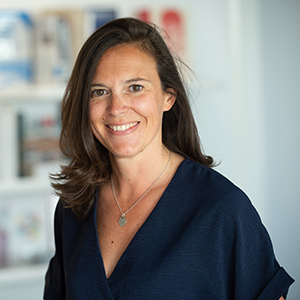 Contact
Élodie Le Breton
Communication, Marketing and Sustainable strategy Director