BALAS Group, a leader in the Ile-de-France region in fluids, energy and property management, is unveiling Olympe, a brand new 8,400 m² mixed-use building (commercial/workshop) in Gennevilliers.
Obliged to leave its site in Saint-Ouen, France, due to the installation of the future Olympic and Paralympic Village, BALAS Group has chosen the Grésillons neighbourhood in Gennevilliers for its new head office. With excellent public transport access (RER C, line 14 and future line 15), Olympe is home to all the offices, logistics and workshops essential to the company's in-house production. This 8,400 m² five-story building is the result of a partnership between the BALAS teams, the FUSO architectural firm and GA Smart Building.
Olympe is built around a central tiered patio that offers a progressive route to the beautiful fourth-floor terrace while connecting the various office levels through a succession of outdoor spaces. A unique venue, designed as an open-air theatre for "corpo working", this patio is intended to encourage interaction and will be able to host any event. It also enhances the quality of sunlight in the offices.
On the ground floor, the village square offers services, a sports hall, a kitchen and training rooms. This level also includes 2,500 m2of space shared between workshops and logistics areas. The multi-storey car park meets the current needs of the business by providing an initial 377 parking spaces. This space could evolve according to the uses of the building and be reconfigured into offices.
Construction of this mixed-use building began in mid-November 2019 and was completed in 16 months thanks to GA Smart Building's signature off-site construction approach. The concrete column-beam-floor combination, the exterior facades in architectural concrete and those of the interior patio, as well as the double-glazed windows, were produced in GA's French plants. On 17 May 2021, 350 of the 800 BALAS Group employees moved into the "dynamic office" environment.
Jean Balas and Jérôme Balas
President of BALAS Group and Deputy Managing Director of BALAS Group
After a three-year marathon since the announcement of our move from Saint-Ouen, we are delighted to have decided on this site and to have been welcomed by the SEMAG (Société d'économie mixte d'aménagement Gennevilliers), a public-private enterprise in charge of development and construction within Gennevilliers, and the town of Gennevilliers. Since 17 May, our 350 employees have enjoyed a user-friendly, practical and efficient workplace, adapted to the transformation of our working methods and to our constant evolution. The ambition of this new site is to accompany the development of our group and to carry our growth dynamics for the years to come.
Kader Guettou
Managing Director of GA Smart Building's Business Division
Olympe is the result of a close co-design with the user and the architect. This partnership approach and GA Smart Building's expertise in the design of this type of work enabled us to meet BALAS Group's expectations fully. We are also pleased with the work carried out in collaboration with SEMAG92 over many years. This collaboration has resulted in the relocation of three major companies to the site: Audika, which we completed in 2020, BALAS Group today, and tomorrow UP Group, for which work has just begun.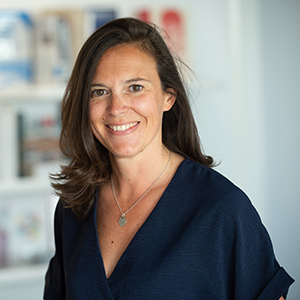 Contact
Élodie Le Breton
Communication, Marketing and Sustainable strategy Director