Neighbouring the RER C suburban rail station "Les Grésillons" in Gennevilliers, at the foot of the future Metro Line 15 and one station from Metro Line 14, the GARDENS corporate building offers 15,400 m² in surface area on the 6th story. The Up Group (formerly Chèque Déjeuner) will open its new French headquarters there under a fixed-term 10-year lease in future state of use, from 2023 after only 23 months of works.
This project is being co-promoted by the GA Group and BNP Paribas Real Estate Business Development.
GARDENS, a building born of a biophilic approach
The building offers more than 1,000 m² of accessible planted leisure areas, on rooftops, terraces and patios. The architecture, by ORIGIN by ATSP (Atelier Tom Sheehan et Partenaires), gives ample room to natural sunlight, and features an islet of fresh greenery in its heart. The landscaping component of the operation, strikingly meticulous in its design, was the work of landscape architect Emeline Brossard.
High-performance and well-being at GARDENS in Gennevilliers
GARDENS will offer state-of-the-art technical services and a range of amenities including a fitness area, and a cafeteria set right in the spacious 650 m² lobby, designed as a friendly space dedicated to employees. Reflecting the priority given to comfort and quality of life in this project, the panoramic restaurant and a conference area will be ideally set on the top level, with flush access to the roof top. A 300-space silo car park, including 40 spaces pre-equipped for electric vehicles and 40 motorcycle spaces will also be found on-site.
GARDENS has great ambitions when it comes to the environment, well-being and connectivity, in step with the Up Group specifications. It aims to secure the HQE®, BREEAM®, Ready to Osmoz and WIRED SCORE certifications and labels.
GARDENS, a demonstration of GA Smart Building's off-site construction approach
To deliver the future head office of the Up Group within a period of only 23 months, GA Smart Building deployed its off-site industrial construction model which makes it possible to both shorten construction times and minimising the disturbance caused by works. Concretely, the building is first fully modelled in FullBIM, after which the digital model designed by GA Smart Building is developed in partnership with the architecture agency ORIGIN by ATSP (Atelier Tom Sheehan et Partenaires). Its structural components (posts, beams and slabs) are then prepared in-factory before being assembled on the site. Polished concrete façades, double bay joinery signed by subsidiary Paquet Fontaine, management of the building's environmental and energy performance with Galaxy Pilot and much more.
Frédéric Celdran
Managing Director, Development and Services unit, GA Smart Building
We are delighted with the work carried out in close collaboration with SEMAG92 for many years now, and which today is enabling a third project to come into being. The fruits of this collaboration can be seen in the return of three major companies to the site: Audika, which we have just provided with its offices; BALAS, whose offices are under construction; and now, the UP Group.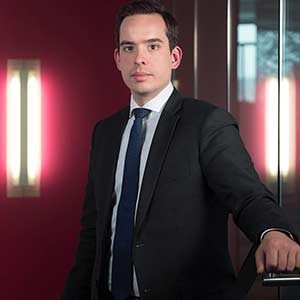 Contact
Victor Katchoura
Deputy Program Director