BNP Paribas Immobilier Promotion Immobilier d'Entreprise and GA Smart Building have signed a lease in future state of completion for 15,400 sqm on the Gardens building, designed for the UP Group.
Ideally located in the immediate vicinity of the Les Grésillons RER C suburban rail station in Gennevilliers and at the foot of the future metro line 15, this new office building project has much to boast, including the proximity with Metro Line 14, just one station away.
Pre-leased in its entirety under a lease in future state of completion for fixed term of 10 years, this site will host the UP Group (formerly Chèque Déjeuner) in 2023, which has chosen to establish its new French head office there.
With usable surface area of 15,400 m² and capacity for 1,400 employees, the GARDENS building will unfold on 7 levels. It will offer more than 1,000 m2 of accessible and planted leisure areas, in rooftops, terraces and patios. The architecture, designed by ORIGIN by ATSP (Atelier Tom Sheehan et Partenaires), gives ample room to natural sunlight, and features an islet of fresh greenery in its heart. The landscaping component of the operation, strikingly meticulous in its design, was the work of landscape architect Emeline Brossard. The property complex will offer state-of-the-art technical services and a range of amenities including a fitness area, and a cafeteria set right in the spacious 650 m² lobby, designed as a friendly space dedicated to Up Group employees. Reflecting the priority given to comfort and quality of life in this project, the panoramic restaurant and a conference area will be ideally set on the top level, with flush access to the roof top.
A 300-space car park will round out the range of services on offer.
GARDENS is a project with great ambitions for environmental friendliness, well-being and connectivity, reflecting the UP Group's specifications. It will benefit from the HQE®, BREEAM®, Ready to Osmoz and WIRED SCORE certifications and labels.
It will benefit from the HQE®, BREEAM®, Ready to Osmoz and WIRED SCORE certifications and labels.
Construction will begin in the second quarter of 2021 and be completed in just 23 months thanks to the off-site construction approach developed by GA Smart Building.
Frédéric Celdran
Managing Director, Development and Services unit, GA Smart Building
We are delighted with the work carried out in close collaboration with SEMAG92 for many years now, and which today is enabling a third project to come into being. The fruits of this collaboration can be seen in the return of three major companies to the site: Audika, which we have just provided with its offices; BALAS, whose offices are under construction; and now, the UP Group.
Thomas Charvet
Managing Director of Corporate Real Estate Development, BNP Paribas Immobilier
The GARDENS project is the result of a co-design process carried out in close cooperation between user and project owner. This partnership approach has made it possible to meet all the expectations of the UP group as well as fulfil its vision of the office building of tomorrow.
In this operation, BNP PARIBAS IMMOBILIER PROMOTION IMMOBILLIER D'ENTREPRISE and GA SMART BUILDING were supported by FAIRWAY and the Up Group, assisted by its advisers RACINE and MILON ASSOCIÉS. BNP PARIBAS REAL ESTATE TRANSACTION carried out the rental transaction.
The project was also developed in close collaboration with the teams of SEMAG92 and the municipality of Gennevilliers.
An Investor Search Mandate has just been entrusted to the capital market teams of CATELLA and BNP PARIBAS REAL ESTATE TRANSACTION for the market release of this premier asset, which will take place during the 3rd quarter of 2020.
Practical details:
Location: Intersection of Rue Louise Michel and Rue des Caboeufs in Gennevilliers 92230
Surface area: 15,400 m2 usable space
Parking: 300 spaces including 40 pre-equipped for electric vehicles / 40 motorcycle spaces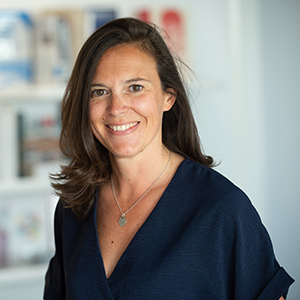 Contact
Élodie Le Breton
Communication, Marketing and Sustainable strategy Director