GA Smart Building recently handed over the first building for the "Now Living Spaces" campus in Toulouse.
Located in Saint-Martin-du-Touch near Toulouse, only 500 m from the planned Airbus Saint Martin metro station (line 3), "Now Living Spaces" is a 16,000 sqm complex comprising four commercial buildings. The first tranche, consisting of a nearly 5,000 sqm building already sold to UNOFI and let to the Alten Group, a world leader in engineering and technology consulting, was handed over recently.
With this campus, designed by Label Architecture and Sight, the aim is to provide a dynamic and inspiring work environment that lets occupants work close to nature, in an ecosystem conducive to both wellbeing and productivity. The campus was designed in a bold biophilic approach, without compromising on user comfort.
The idea behind the haven of greenery that is "Now Living Spaces" was to offer a breathing space, enabling employees to work in an enviable environment in the heart of the Toulouse aerospace complex.
The buildings are open structures, designed to engage with nature. To enable users to gain maximum benefit from the outdoor spaces, the landscaped grounds will also be enhanced with furnishings and feature a wellness trail.
To enhance the quality of life of its future occupants, the 16,000 sqm office complex includes a 380-space multi-storey car park pre-equipped with electric charging points, as well as a 600 sqm bicycle park complete with showers and lockers. The complex will also offer users a 300 sqm terrace as well as amenities such as a canteen, cafeteria and concierge service.
"Now Living Spaces" is seeking HQE® environmental certification at "Excellent" level, together with the new "Ready to Osmoz" labels for quality of life in the workplace and user comfort, as well as the "R2S" label in recognition of the quality of the property's connectivity. The development has also been selected as a pilot site for the incoming "4 Grid" certification, which rates a building's energy management performance.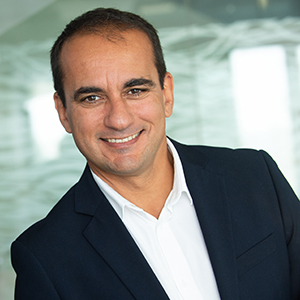 Kader Guettou
Managing Director, Enterprise Unit
Today, we are delighted to be handing over a building leased by Alten, despite the current circumstances. This has been made possible by GA Smart Building's hallmark focus on off-site construction. We used our full spectrum of industrial processes for this project.
Note that the marketing and transaction for the first building were handled by BNP Paribas Real Estate; the remaining buildings, with floor areas ranging between 3,000 and 4,000 sqm, are currently available for marketing.