The GA Group was chosen to rehabilitate the new European headquarters of the Japanese automobile maker Nissan. This rehabilitation project, encompassing 13,400 m² in office space dating back to the 1980s, was completed in February 2017 to accommodate 850 employees, with 500 parking spaces and company cafeteria facilities for 800.
A delegated project management mandate
After working with the lessor through the structure's marketing stage, GA Smart Building was entrusted with the renovation work on what was to become the new home to Nissan Europe's headquarters. The car manufacturer already had offices in the municipality and wanted to expand its presence there. Designed by the architectural agency MP&C Productions, the real estate project now has a new façade but has lost nothing of the site's strong identity. Produced in one of the GA Group factories in Normandy, the façade was transported to the Paris area and mounted on-site.
Great adaptability
In order to adapt the building to its ambitions and its brand image, Nissan made some noticeable changes in the initial programme as renovation work progressed, and was able to count on the GA teams' expertise in integrating these modifications into the timetable to keep to the agreed date for handover of the office spaces. Nissan also entrusted GA with additional works related to interior fit-outs such as the installation of the site's security system, the implementation of removable partitions, and the installation of VDI wiring. Having GA integrate these tasks ensures Nissan of greater comfort and convenience and facilitates its move to the new site.
Innovative energy supply
The GA teams helped Nissan think through the decision about installing an innovation: the development of a smart energy management system that ensures multi-resource supply, namely photovoltaic and electric resources, thanks to the second life of used batteries from electric cars that are grouped together in a battery-charging room. Thanks to technology, it will be possible to pool power sources then reallocate them to distribute the load and optimise energy performance. As to the building itself, it is aiming to secure the BBC-Effinergie Renovation label.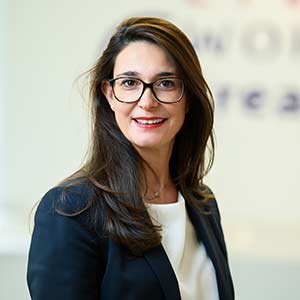 Contact
Delphine Fontaine
Director of Business Development Île-de-France