22,000 m² of state-of-the-art office space for Safran in Malakoff
Following a developer/investor consultation conducted by Safran in 2018, GA Smart Building and Batipart began construction of a 22,000 m² office building in Malakoff. The sale and leaseback transaction was then sold to La Française REM in mid-2020, on behalf of the ERAFP [Établissement de retraite additionnelle de la fonction publique (French Public Service Additional Pension Scheme)] and two real estate investment trusts (LF Grand Paris Patrimoine and Épargne Foncière).
The demolition of the old tertiary site was completed in May 2019, prior to the construction of the new 22,000 m² building. Safran moved into these new state-of-the-art offices as a tenant in October 2021
Designed by STUDIOS Architecture, the real estate project, located on boulevard Charles de Gaulle in Malakoff, blends perfectly into its urban environment and the surrounding residential setting.
Its predominantly glass façade develops a linear and fluid image on the boulevard.
A resolutely biophilic approach
Contemporary and sustainable, the building was designed by the GA teams using a biophilic approach. It offers its users plant-filled balconies, beautiful terraces and a spacious garden at the heart of the development designed by landscape architect Land'Act.
The building has adopted a continuous innovation approach. In addition to the 2016 Excellent level HQE® sustainable building certification, and the 2017 BBC-Effinergie label, the building is a pilot for the E+C- experiment targeting the E2C1 level. The foundations are made of low-carbon concrete, and the roof is fitted with photovoltaic panels.
Seven storeys of modularity and flexibility
The seven-storey complex, which is aiming for Gold-level WELL certification, offers large, flexible and modular office space, perfectly suited to new forms of work organisation.
Numerous services improve users' quality of life: concierge service, flexible meeting rooms, fitness, restaurant and cafeteria.
Fast and virtuous construction
Thanks to our off-site industrial approach, the construction of the 22,000 m² office superstructure was completed in record time—just 18 months of construction, despite the Covid-19 health crisis.
From FullBIM modelling, to the manufacture of structural elements, facades and comfort equipment in our factories, to their assembly on-site, we control each stage of the construction process. The building complex received the Best BIM Project Award at the Tekla BIM Awards France 2020.
This unique approach ensures quality execution and deadline management, and minimises the environmental impact of the worksite and disruptions to local residents.
In addition, the operation involved the reuse of materials, with 6,000 m² of raised flooring from the Gravity building—currently being renovated by GA Smart Building in Paris—which were reprocessed, guaranteed and installed in partnership with Mobius.
The operation was carried out with the assistance of the EPFIF (Etablissement Public Foncier Île-de-France), a regional public real estate establishment.
Safran was advised by teams from Bluebird and Théop.
Sébastien Matty
President of GA Smart Building
We are delighted to support Safran in its development. This project's ambition is to offer a dynamic and inspiring working environment by enabling its employees to work in the best possible conditions.
Thomas Camus
Batipart's development general manager
This operation is the first investment made as part of the Development Fund launched by Batipart in early 2018 with its investor partners. Batipart and its partners, ACM and COVEA, are proud to carry out a virtuous 22,000 m² tertiary operation alongside GA Smart Building and Safran, two quality partners. This regeneration operation also contributes to the urban renewal of the municipality of Malakoff.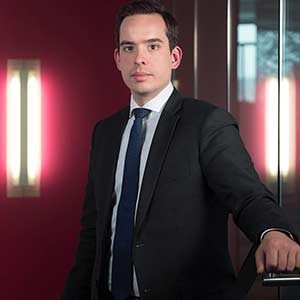 Contact
Victor Katchoura
Deputy Program Director