GA Smart Building won a general contractor contract to renovate Gravity, an office building of more than 10,600 m2, located at Porte de Montrouge, in the 14th arrondissement of Paris.
The vertical distribution was refurbished, the building was cleaned, the spaces were reformatted to accommodate modular trays in open space… This is a traditional renovation project that will allow the Gravity building to develop on nine floors and offer 110 workstations on each level.
Gravity in Paris, a renovation carried out in the middle of the health crisis
Consulted in October 2019 as part of a call for tenders by the Assistant to the Builders and Partners Contracting Authority, on behalf of the Groupe Pierre & Entreprise, GA Smart Building's proposal was selected in mid-February 2020, beating three competitors. Scheduled for May, the start of the project was delayed due to lockdown related to the Covid-19 health crisis. Six months later, the green light was given with a contract signing on November 20th.
An island of green at the gates of Paris
What distinguishes the Gravity building from other commercial renovations is the aim is to place nature at the heart of the project by placing the existing building in a landscaped environment. Trees on the facade, vegetation adorning the walls, terraces and loggias containing gardens, this renovation jointly designed with the RDAA architectural firm will integrate nature into a primarily urban environment. Finally, the installation of a 365-m2 rooftop on the 10th floor will offer a panoramic view of all of Paris and will allow for the natural extension of outdoor work spaces, for more friendliness and greater quality of life at work.
A commercial renovation with strong environmental ambitions
The Gravity building will have strong environmental ambitions, particularly through a process of reusing materials during the cleaning phase. It aims to receive BREEAM International Refurbishment & Fit-out 2015 certifications at the "Very Good" level, a WiredScore at the "Silver" level, and the HQE durable building label at the "High Performance" level.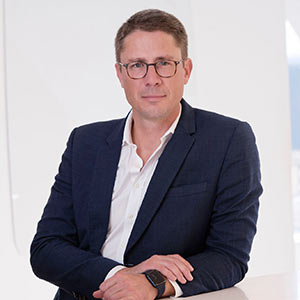 Contact
Sébastien Launay
Head of Corporate real estate