Located at the entrance to Cergy, close to the RER A suburban rail station in Cergy-Préfecture, the university, and business and engineering schools, this new student residence is the second tranche of "Gymnote": an 11,000 m² mixed property complex composed of an office building and a student residence.
The real estate complex Gymnote was developed in close conjunction with the Cergy-Pontoise Conurbation Community (CACP) and SPLA Cergy-Pontoise Aménagement. The two buildings that comprise it were designed by architects Reichen et Robert & Associés and will be a powerful architectural signal at the entrance to the city.
The "Gymnote I" office building spanning 6,000 m² on 9 levels has been home to the teams of Ramsay Générale de Santé since last July.
Opposite the structure, the "Gymnote II" student residence was delivered to the KLEY Group – investor, owner and manager of new-generation student residences – on 30 September and is already 100% occupied. Directly connected to the university by a footbridge, this 4,600 m² building on 11 levels houses 162 housing units (191 beds), including 9 in shared housing in 3- to 6-room apartments, with private loggias and collective terraces.
The residence offers innovative services to students including, in particular, more than 175 m² of common spaces with an original and unique design inspired by the local ecosystem, accessible 24 hours a day: a "Kafé Squat", a co-working space ("Lab"), a cinema and gaming room ("Kosy").
In addition to the services, considerations were centred on the well-being and comfort of the students, who benefit from a 30 m² shared terrace on the 9th floor and a 100 m² rooftop, while natural light irrigates all the circulation areas. Each room also benefits from an individual fibre optics connection and high-quality services, including private bathrooms.
Thanks to the off-site construction approach, which is the hallmark of GA Smart Building, the students were able to move into premises in minimal time, the project being calibrated as closely as possible with the academic year, despite the health crisis.
This is because, in addition to the mechanical assembly of the structural and façade elements carried out in GA's factories, more than 160 modular bathrooms were produced in those of Ossabois – GA Smart Building's wood subsidiary – making it possible to very significantly reduce reserves on delivery as well as construction deadlines. Modular bathrooms are a perfect complement, being easily to implement in the off-site construction process.
Frédéric Celdran
Managing Director, Development and Services unit, GA Smart Building
Considering the current circumstances, we are very pleased to have delivered this student residence to the KLEY group. As with Gymnote I, which we delivered last June, the site had been stopped at the end of March. We thus put a lot of energy into being able to deliver it as quickly as possible and enabling students to move in from 1 October for the start of the academic year.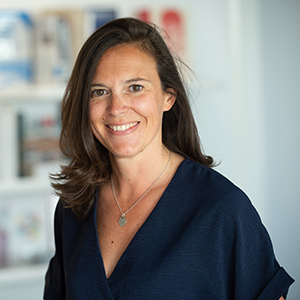 Contact
Élodie Le Breton
Communication, Marketing and Sustainable strategy Director