Groupama Gan REIM, on behalf of SCPI Affinités Pierre, acquires a 7,300 m² office complex in Illkirch, leased to Alcatel-Lucent Enterprise and executed by GA Smart Building.
Leased to Alcatel-Lucent Enterprise, the world leader in communication, collaboration, network and corporate cloud communication solutions, rented on a fixed-lease term of 9 years, the property, deliverable in October 2021, will hold "Excellent" HQE certification. The new site will deploy the latest working and layout methods, in partnership with Artelia and ADD (Ateliers des Demoiselles). These premises will be home, in particular, to the research and development teams of Alcatel-Lucent Enterprise's Rainbow cloud collaboration solution, a global cloud of unified communication, open to connected objects and artificial intelligence. This site will also house an electronics and acoustics development laboratory for the creation of enterprise communication systems and terminals, and could also host other companies looking for offices at the Illkirch innovation park.
This investment in excess of €21.3 million (including transfer duties) reflects SCPI Affinités Pierre's desire and commitment to position itself on new buildings, rented under long-term leases and in keeping with a virtuous environmental approach.
The architectural project, designed by Studio Montazami, calls for a landscaped complex structured around two buildings connected by a central lobby, and an inter-company restaurant with 300 covers. Consequently, the layout of buildings A and B opens up vistas towards the park and creates intersecting views over the interior walkways. The office levels enjoy the benefit of large full-height glazed windows to offer generous views towards the outdoor green spaces, so that the feeling of spaciousness is accentuated. The entrance forum is located at the intersection of the two buildings, enabling a link between the two structures, so that users and visitors can cross this vibrant space, equipped with interaction and meeting areas.
The architecture of the volumes is sculpted by bays arranged in staggered rows, creating a perpetual dynamism. The façades have an inner resonance, and respond to the ambient light, discreetly adorned with random stampings, reminiscent of computer-perforated cards.
The works, which began in August 2020, should enable delivery of the property complex in October 2021, made possible by the off-site construction approach characteristic of GA Smart Building.
Sylvain Lecoustey
General Sales Manager France, Alcatel-Lucent Enterprise
With the signing of this nine-year lease, and the move to the heart of the Strasbourg Innovation Park in Illkirch, Alcatel-Lucent Enterprise continues to demonstrate its commitment and attachment to the French market, and in particular to the Eastern region, a historical and strategic symbol of its presence in France.
Alexandre Hamon
Chief Investment Officer, Groupama Gan REIM
SCPI Affinités Pierre is rounding out its territorial network in a region where it had little presence. This office property complex located in the heart of the Strasbourg Innovation Park and leased to Alcatel-Lucent Enterprise enables the SCPI to strengthen its portfolio of new assets, consolidate its rental status, which has an average maturity of 8 years and welcome a new reference tenant. Groupama Gan REIM once again demonstrates its ability to spot and conclude transactions that enable the alternative investment funds it manages to operate consistently with a logic of sustainable value creation.
France Vidal
Director of Southwest Development, GA Smart Building
We are pleased to be initiating works on this fine complex that will be home to Alcatel-Lucent Enterprise, which has once again placed its confidence in us. This is an adventure that we are pleased to share once again with Groupama Gan REIM, which is signing its 4th acquisition with GA Smart Building since 2016.
For this transaction, the buyer was advised by the notarial firm Oudot & Associés (Attorney-at-Law Conrad-Bruat), the firm Archers (Attorney-at-Law Moutet) for legal aspects and the company Setim for technical aspects.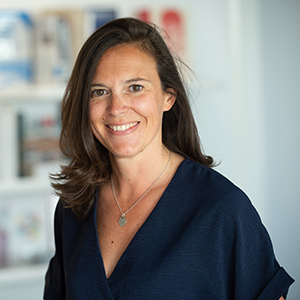 Contact
Élodie Le Breton
Communication, Marketing and Sustainable strategy Director