With ambitious environmental objectives, the Astérie property complex is built using an innovative wooden structure designed to optimise its carbon weight. Designed to be sold as an entire building or in lots, it fits in perfectly with this appealing region undergoing a transition towards a new mix of urban living.
Located in the Armagnac business district, south of Bordeaux, Astérie lies within the Saint-Jean Belcier ZAC (zone d'aménagement concerté [joint development zone]). Situated at the foot of the Pont de la Palombe bridge, it is less than a five-minute walk from the Saint-Jean train station, Astérie enjoys a strategic location and excellent visibility. Bordering a neighbourhood that promotes soft traffic with protected pedestrian and cycle paths, the complex, which can be divided and is intended to be sold as an entire building or in lots, fits perfectly into an area offering new services for a mixed urban environment.
#Modularity and services
With a total surface area of 9,879 m² that can accommodate 800 workstations, Astérie will house 9 flexible floors that can be divided into areas ranging from 250 to 1,150 m². Each floor's design is based on a load-bearing structure that is independent of the partitioning, offering greater modularity. This makes it possible to accommodate a single tenant, or multiple occupants wanting to acquire office space.
Designed to provide a real living space where people can meet and share ideas, Astérie's ground floor embraces today's new ways of working and sharing. Open and versatile, it houses shared meeting rooms, a concierge service, a contemporary café and a co-working area. The building also offers its users loggias, 100 bicycle slots and parking spaces nearby.
#Architecture
The name "Astérie" refers to calcaire à Astéries, an asteriated limestone. This is the sedimentary stone used to construct buildings in Bordeaux. It contains starfish fossils known as Astéries. The facade of the building, in white architectural concrete, is reminiscent of this iconic material.
Baumschlager Eberle Architects chose to revisit the traditional Bordeaux styling, combining multiple heights, slender designs to the edges of the building and incorporating vertical openings. Located in a completely restructured area, Astérie boasts an architectural design that gives it an elegant, distinctive silhouette.
#Environment and innovation
Astérie's unique design meets a real environmental objective in terms of energy consumption and carbon emissions, thanks to its wood structure.
Astérie is aiming for BREEAM (Building Research Establishment Environmental Assessment Method) certification at the "Very Good" level and is part of the E+ C- initiative (E+ for positive energy, C- for carbon reduction).
Alexandre Villatte
General Manager of the Public Development Project of Bordeaux-Euratlantique
Through this project, we strengthen our ambition to develop wood construction from an operational perspective, essential in to the emerging low-carbon era. We are delighted that Astérie is driving this momentum towards a new urban mix.
Sébastien Matty
President of GA Smart Building
With Astérie, GA Smart Building demonstrates its expertise as an off-site developer-builder by delivering a turnkey office building with an ambitious environmental agenda, reflecting its goal of reducing carbon emissions for an optimal ecological footprint.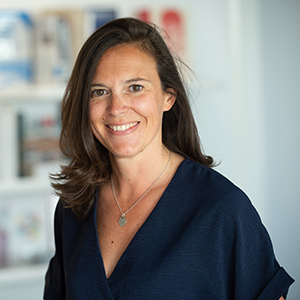 Contact
Élodie Le Breton
Communication, Marketing and Sustainable strategy Director