Luminem and Irrigo provide its users with an ideal geographic location along the banks of the Canal de l'Ourcq, conveniently located near line 5 of the Paris métro (Raymond Queneau station) and very close to trunk road 3. Together they span 32,000 m² of new offices containing 2,300 workstations. GA took up the challenge posed by this project in partnership with Paribas Immobilier.
The first office building, Luminem, which spans 18,000 m², was sold to the Caisse Centrale de la Mutualité Sociale Agricole, employees will move into the premises in May 2017. The second building, Irrigo, which has just been put on the market, could be available in just 16 months once the taker has made a decision.
An ambitious programme driven by flexible, harmonious architecture
Erected at the heart of a large private garden spanning more than a hectare, Luminem and Irrigo are the first buildings of the Canal de l'Ourcq Écocité. This ambitious sustainable scheme, which will cover a 20-hectare site, will include 140,000 m² of offices, 7,000 m² of retail space, 50,000 m² of mixed-use light industrial activities, 200 housing units, and 8,000 m² of public facilities.
The two buildings display a strong architectural identity combining concrete, aluminium and glass panels. The attractive contemporary design is the work of architect François Leclercq.
Energy efficiency, part and parcel of the programme's DNA
Energy consumption in Luminem & Irrigo is 30% lower than criteria set by the RT 2012 energy efficiency regulations. The aim is to achieve HQE® and BREEAM Excellent certifications. By promoting environmentally friendly construction and management, GA has committed itself to controlling expenses in Luminem & Irrigo under an energy performance contract.
A site geared to its users
Enhancing employees' comfort and fostering well-being at the job are among the key focuses guiding the construction of the buildings. Each building has a company restaurant with a capacity of 800 settings, a cafeteria and a concierge office. Luminem boasts a conference area accommodating 120 people that is extended by a terrace with a restful view of the private grounds and the Canal de l'Ourcq.
Designed to adapt to new forms of work organization, the office plates are spacious and easy to convert. The spaces have an excellent ratio of floor area lit by natural daylight, which provides employees with a better quality of life at work.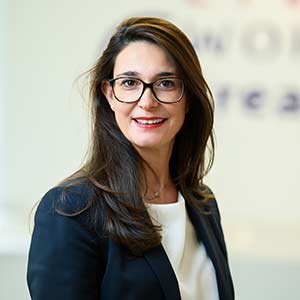 Contact
Delphine Fontaine
Director of Business Development Île-de-France