Located near La Défense, a modulable corporate building, for rent
Designed by Ateliers 115, it extends across a total usable area of 11,100 m², offering numerous services: company restaurant, co-working spaces, shared meeting rooms, gaming zone, in addition to 174 underground parking spaces.
There, Bureau Veritas signed a 9-year firm lease for over 3,000 m² of office space moving into the Gaïa Building on 1 January 2018.
Infos France and Sherpa also signed a lease to move into the Gaïa building in 2019.
Demos in turn signed a lease to move into the building in June 2020 for an area of almost 1,700m².
Efficient energy management
With the assistance of the Galaxy Pilot®, the building's consumption will be in the order of 35 Kw a year per sqm. This performance is guaranteed under an energy performance contract, which stands as proof of the attention given to energy efficiency and environmental friendliness without ever losing sight of the convenience users expect.
Fittings that reflect GA's smart building
GA Smart Building solutions were used to install smart equipment, in particular effective air treatment modules and triple glazed picture windows with power-operated blinds integrated between the double glass panes. Modular office plates can accommodate between 800 and 1000 workstations, which gives the taker the possibility of increasing workforce density as its needs grow.
A building designed for well-being at work
The 6-storey building gives out onto spacious terraces at the back. The company restaurant at the garden level also gives direct access to a terrace.
The offices plates are 12 or 18 metres in depth. They lend themselves easily to flexible layout, meaning that they can adapt to new forms of work organization by mixing, for example, coworking spaces, flex space, open-plan layout and privacy pods.
In terms of services, users benefit from a reception and security service, 3 large shared meeting rooms that can accommodate between 20 and 30 people, a gaming zone, and the possibility of having coffee in the sun on the terraces. Finally, they can easily park their vehicles in one of the 174 spaces contained in the two underground parking levels.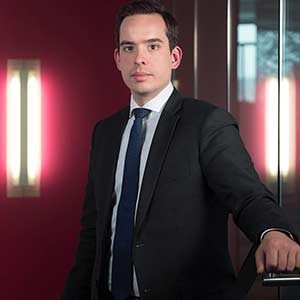 Contact
Victor Katchoura
Deputy Program Director