A fact on the ground speaks louder than words… By making its head office Agua the showcase of its know-how, GA concentrates all the features that have established its reputation in one life-size building. It took no more than one visit to Agua to convince Chausson Matériaux, the leading independent construction material distribution company in France, to turn to GA for its own new headquarters.
Long established in Fenouillet in the outskirts of Toulouse, Chausson Matériaux wanted to stay in the region and move to a facility in nearby Saint Alban. GA teams had seven months to complete the new head office.
Unique proprietary industrial know-how
Designed by CDA Architectes, the building can accommodate up to 180 employees, giving Chausson Matériaux the space it needs to cope with its growth.
All the components of the building's structure and façade were prefabricated in GA's factories in Labège and then transported to the site, where they were assembled. Thanks to this unique construction method, which is specific to the GA Group, the 3,500 m², five-storey office building was completed in the allotted seven months.
The building's architectural concrete façade, triple glazing with integrated power-operated blinds, and reversible air handling modules (heating, cooling and ventilation) ensure excellent insulation and optimal thermal performance.
Reconciling well-being and work
Emphasis on employees' comfort and promotion of well-being at work are among the keywords that guided the building's construction. To achieve this end, Chausson Matériaux wanted its head office equipped with Galaxy Pilot®. This innovative technology combines the use of high-performance equipment with Centralised Technical Management (CTM), which lowers building operation costs. Temperature, lighting and ventilation are configured in real time in order to optimize employees' comfort while keeping energy consumption down.
The fit-out was designed with quality of life at work in mind. To enhance employees' well-being, the work environment features harmonious furniture in work spaces as well as in the garden, carefully arranged light, a convivial cafeteria, photos of employees on the walls, and a wooden pergola outside to protect them from the sun.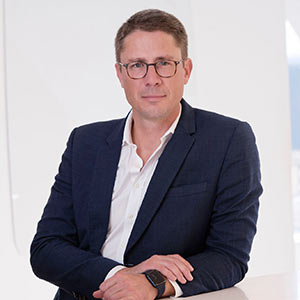 Contact
Sébastien Launay
Head of Corporate real estate