When the electronics giant Thales chose GA for the construction of a new site in Bordeaux Mérignac, the Group was just completing Campus Cristal, the new headquarters of Thales Communications & Security, in Gennevilliers. There is no doubt that strict adherence to lead times for the site and a similar technical context qualified GA for the construction of the company's new corporate building in Bordeaux Mérignac.
A building designed for well-being at work
Completed in August 2016, the 60,000 m² complex designed by architect Philippe le Covec and constructed by GA for the Thales Group in Bordeaux accommodates about 2,500 employees. Six office buildings connected to each other by a shared ground floor form a hub that induces people to move around and fosters interaction and communication. When it comes to services, everything has been arranged to provide employees with the perfect balance between well-being and quality of life at work. One building houses the company restaurant, a business centre, the works council, a concierge desk, a showroom and several meeting rooms. A separate building houses all the site's technical equipment. And a car park planted with greenery holds 1,850 parking places, including 150 for motorcycles. Campus Thales Bordeaux wins the SIMI's 2016 Campus Prize.
Energy-efficient GA construction processes
The ultra-modern Campus Thales boasts high environmental quality and will be certified with the HQE® and BREEAM labels. Construction was carried out with the help of the proprietary process FullBIM, developed by GA, which features 3D digital modelling offering a unique level of knowledge about the buildings at every stage of the project. The model, in which all the information related to the buildings and the operation thereof is compiled, should be handed over to the Thales teams at the completion of construction. This digital manifestation of the Campus will optimize site operation in terms of maintenance, space planning, CTM, indoor geopositioning, environmental performance and so on. The GA Group wins the 2016 Tekla Global BIM Awards for the Thales Campus in Bordeaux.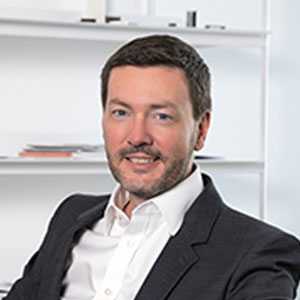 Sébastien Matty, Chairman of GA Smart Building
Thanks to GA's unique method of construction, this property complex will take just 18 months to build. This new programme reinforces the group's foothold in the aeronautics sector and validates our strategy of long-lasting partnership with occupier clients to whom we provide on-going customer support.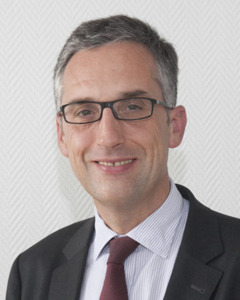 Éric Supplisson, Group Real Estate VP, Thales
Thales has already had the opportunity to work with GA on various types of buildings – commercial, industrial and more – so we are familiar with the full range of their expertise. GA was selected to build our site in Gennevilliers, which is owned by AG Real Estate. GA put us at ease with regard to their ability to complete such as a large project (87,000 m2) in such little time (18 months). The construction site was well managed and the delivered site is on par with our expectations in terms of quality.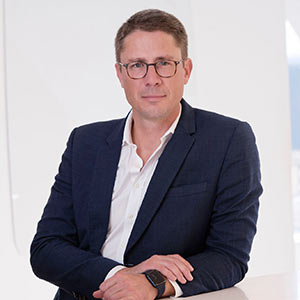 Contact
Sébastien Launay
Head of Corporate real estate