GA had already completed several projects on behalf of Thales. Connections were also established with investors. On behalf of Fortis, now AG Real Estate, GA had already built the registered office of Chèque Déjeuner in Gennevilliers. A successfully completed project which convinced the property company to invite GA to tender when Thales made the decision to group several of its entities on the same site.
A commitment to deliver in 24 months
Once the site was approved, progress was so rapid that AG Real Estate asked GA to commit to a guaranteed maximum price based on a summary tender package. This type of commitment demonstrates the high level of trust between the two partners.
The contract was therefore signed before the project was designed. The building permit was only filed after signature and construction design followed shortly afterwards.
Only four months after signing the contract, the project was launched, with the GA teams committing to a 24-month delivery.
A mega-project completed with a guaranteed maximum price
For this 87,500 m² campus project, including a 1700 space multi-storey car park and a large multi-company staff restaurant, GA acted as general contractor and designer alongside a project management team, European architecture firm, Art & Build, and engineering firm Terrel.
Constrained by its commitment to a guaranteed maximum price, GA had to ensure it stayed within the sums allocated to each budget item. This constant source of pressure did not prevent all stakeholders working together constructively.
The assurance of optimised energy performance
In terms of facilities, the corporate real estate on the Thales Campus benefits from GA standards and includes installation of air-conditioning modules, triple-glazed windows and integrated motorised shutters. Built with Galaxy Pilot®, the site optimises energy performance without ever losing sight of user comfort.
A modular development that meets the needs of Thales
The Thales order focused on a highly pragmatic approach to employee well-being. With the company's functional and open-ended working methods, the design created project units that can be changed on a case-by-case basis, and fluid layouts surrounded by modular spaces so that new needs can be met as quickly and efficiently as possible.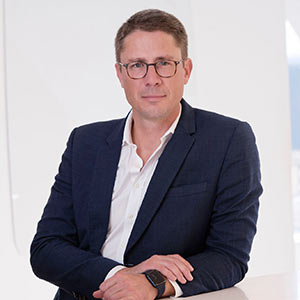 Contact
Sébastien Launay
Head of Corporate real estate