The property complex located in Isneauville, in the Plaine de la Ronce industrial park near Rouen, is the regional head office of AXA. Designed in the shape of an open hand, the project features three long white wings connected to each other by a glazed bridge that forms an inner street.
Know-how encompassing all the trades
At the source of the property operation to house AXA's regional head office near Rouen was a bid announcement for a lease off plan (French acronym: BEFA). The GA Group joined forces with the investor Midi 2I to respond to the call for bids organized by AXA. GA won the contract in the summer of 2015, by virtue of its overall mastery of operations spanning all phases, from design to construction and even operation of buildings. In December 2015 it signed a property development contract combined with a guarantee of charges, and immediately submitted the request for planning permission, which was granted in May 2016. Work began in mid-October 2016 with delivery made one year later in October 2017.
Optimized energy performance
Executed with the assistance of Galaxy Pilot, the site's temperature, lighting and ventilation are monitored and adjusted in real time for optimal comfort and environmental performance. The management system lets employees adjust their parameters and act on their energy consumption. Certified HQE and benefiting from an expense guarantee, the site also benefits from the integration of air treatment modules in the horizontal and vertical façades as well as GA double bays, triple-glazed frames with a built-in blind that guarantees maximum insulation.
Fostering work and well-being in the company
With the Jean-Paul Viguier & Associés architectural firm, GA has developed a building that gives all of its character to users' comfort. With views of the outdoors, terraces, a mix of open-plan space and partitioned areas, meeting pods, and a main staircase fitted out as an inviting place to spend time, this "campus office" is designed to be a place for both quiet thinking and convivial interaction, with areas where colleagues can get together and exchange ideas.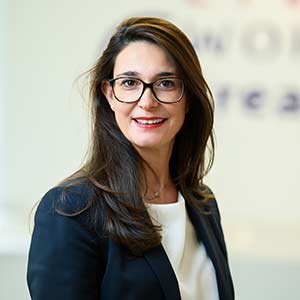 Contact
Delphine Fontaine
Director of Business Development Île-de-France