Located just on the edge of Cergy-Pontoise, close to the RER A Cergy-Prefecture station, the University and the business and engineering schools, Gymnote is a multi-purpose complex of 11,000 m² comprising an office building for Ramsay Générale de Santé, as well as a student residence on behalf of the Kley Group.
Gymnote was developed in close conjunction with the Cergy-Pontoise Agglomeration Community (CACP) and Cergy-Pontoise Aménagement.
The two buildings that comprise it were designed by architects Reichen & Robert and will be a strong architectural signal at the entrance to the city.
The 6,000 m² office building on 9 levels is intended for Ramsay Générale de Santé. It will offer an original and kinetic façade, clad in metallic strips. The work areas, designed to be flexible and modulable, will be complemented by a gym with changing rooms and showers, a dining area, relaxation and co-working areas, as well as a 100m² south-facing terrace on the top floor and balconies accessible to all floors.
Produced in FullBIM, the 3D digital model developed by GA Smart Building, which will enable real-time monitoring of the construction's progress, the building will also be managed by Galaxy Pilot®, the consumption management and monitoring system developed by GA. This technology will optimise the energy performance of the building while improving user comfort. The "Gymnote I" office building is thus one of the pilot buildings aiming for OsmoZ certification for quality of use and comfort in the workplace while aiming for HQE® Sustainable Building certification at the "High Energy-Efficiency" level.
Opposite the University of Cergy-Pontoise, the "Gymnote II" student residence hall, created for the KLEY Group, an investor, owner and manager of new-generation student residences, will offer innovative services and multiple events organised by the on-site team.
The services will be of a high quality for optimal comfort including, in particular, private bathrooms in all the housing units and an individual fibre optic connection in each room. The 4,600 m² 10-storey building, located in the immediate vicinity of the University, to which it is directly connected by a footbridge, will house 162 accommodation units (191 beds), 9 of which will be shared rentals with 3 to 6 bedrooms, private loggias and terraces. All will have a bespoke bathroom produced "off-site" in the factories of OSSABOIS, GA Smart Building's timber subsidiary. The residence will also offer students more than 175 m² of common areas, accessible 24 hours a day, including: a "Kafé Lounge", a "Lab" co-working space, a "Kosy" cinema room and a rooftop. All the common areas of the residence will be fitted out with an original décor theme, making for ultra-design spaces.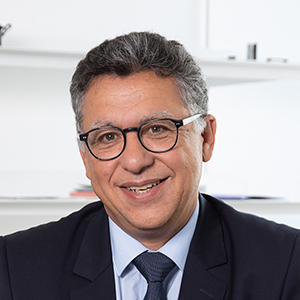 Frédéric Celdran
Managing Director, Development and Services unit
This new project further buttresses GA Smart Building's commitment and know-how in delivering smart, efficient and ever higher-performance buildings. It is being carried out in two stages, both with a common aim: the well-being of users. In addition, with "Gymnote II", GA Smart Building is building its first student residence hall and will incorporate the modular approach designed by its subsidiary OSSABOIS.