On behalf of the biggest asset manager in the world, Blackrock, GA Smart Building is renovating the Tour Europe, one of the first towers built in La Défense.
An exceptional renovation conducted in partnership with Rudy Ricciotti, the architect who designed the Musée des Civilisations de l'Europe et de la Méditerranée (MUCEM) [Museum of Civilisation in Europe and the Mediterranean], a symbol of the renewal of Marseille in the eyes of the whole world. On 4 floors, 3,000 m² out of the tower's entire 28,000 m² were refurbished in a restricted environment by the teams from GA Rénovation. The project includes a fitness room, a restaurant and a cafeteria of high standing, designed to attract the premium clientele which works in the surrounding area. The lobby has been paid particular attention by the architect, Rudy Ricciotti, who wanted to give it a vintage look to echo the rustic appearance of the Tour Europe.
Works of art requiring a specific know-how
It was after a hotly contested call for tenders that GA Smart Building prevailed by being committed to demonstrating its ability to satisfy the specific requests of the architect. Rudy Ricciotti, who wished to take advantage of the interior renovations to beautify the façade, had two awnings fitted on the sides of the tower. These canopies composed of ultra-high-performance (bfup) fibre-reinforced concrete elements 3 metres wide and able to roll out 7 metres which proved difficult to design and install. GA Smart Building's ability to create and install these works of art ultimately won the support of the contracting authority and its advisers.
A project in an occupied area
As only the base of the tower was renovated as part of this project, with the other floors remaining occupied, particular attention was paid to limiting site disruption. Important communication work was also conducted to keep the tenants informed of the time slots of noisy work. The phasing of the work was organised to guarantee staff access and deliveries throughout the duration of the work. Supplies and heavy handling were organised at night from the ring road. Interventions from the La Défense forecourt were designed to take account of low permissible overloads.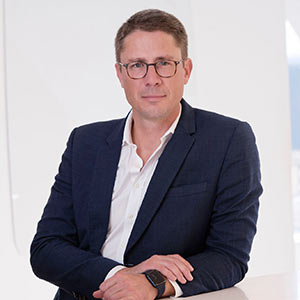 Contact
Sébastien Launay
Head of Corporate real estate