On behalf of the biggest asset manager in the world, Blackrock, GA Smart Building is renovating the Tour Europe, one of the first towers built in La Défense.
An exceptional renovation conducted in partnership with Rudy Ricciotti, the architect who designed the Musée des Civilisations de l'Europe et de la Méditerranée (MUCEM) [Museum of Civilisation in Europe and the Mediterranean], a symbol of the renewal of Marseille in the eyes of the whole world. On 4 floors, 3,000 m², out of the tower's entire 28,000 m² is being refurbished in a tight deadline by the teams of GA Rénovation. The project includes a fitness room, a restaurant and a cafeteria of high standing, designed to attract the premium clientele which works in the surrounding area. The lobby has been paid particular attention by the architect, Rudy Ricciotti, who wanted to give it a vintage look to echo the rustic appearance of the Tour Europe.
Works of art requiring a specific know-how
It was after a hotly contested call for tenders that GA Smart Building prevailed by being committed to demonstrating its ability to implement the specific requests of the architect. Rudy Ricciotti, who wished to take advantage of the interior renovations to beautify the façade, intended to have awnings fitted at the entrance to the tower. However, these canopies in concrete turned out to be delicate to create. The ability of GA Smart Building to produce these works of art ended up winning over Rudy Ricciotti, who had a particularly influential role on this project.
A project in an occupied area
With only 4 floors being renovated out of 35, particular attention, especially in terms of acoustics, is paid to limiting the project's noise. Important communication work is also conducted to keep the tenants informed of the time slots of the teams' interventions. The contractors must therefore comply strictly with their schedule, in order to come cross the users as little as possible and to limit the impact on their comfort as much as possible.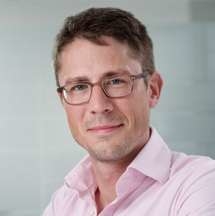 Contact
Sébastien Launay
Head of Corporate real estate