GA Smart Building renovated this building complex of close to 3,000 m² in Albi in just 8 months for the Banque Populaire Occitane.
The bank branch occupies the ground floor, and the upper 7 floors house offices. The site also includes a 3-floor extension, an annexe, and above-ground and basement car parks.
A contract of confidence
Initially plans called for building headquarters in Toulouse, but the idea of a renovated head office in Albi won out. It was a major challenge for GA Smart Building and its teams because it involved equipping a building dating back to the 1980s with all the qualities of a brand new building. The pre-existing connection that linked GA with the Banque Populaire as a result of the many building operations they had previously carried out successfully in Toulouse contributed to creating a strong context of trust when it came to this project.
Efficient energy management
Faced with such a specifications sheet and with the obligation to achieve a classification equivalent to BVC (a low energy consumption index), GA implemented its most innovative processes. The Newskin façade process, which incorporates blinds into double picture windows and triple glazing, and the internal air treatment module implemented by GA Smart Building help save energy while providing optimal comfort. With the assistance of Galaxy Pilot®, the renovated site improves the existing state of consumption by 30% and 40% compared to existing thermal regulations for the building industry. GA technology has thus enabled this existing building to achieve the energy efficiency of a new building.
Reconciling productivity and well-being at work
For the offices, breaking down partitions to create open space helped modernize the work stations and offer employees the possibility of reconciling productivity and well-being at work. Open-plan offices, laid out with special care to acoustics, gain in terms of volume and aesthetic comfort in addition to being rendered perfectly well suited to today's new working modes.
Nearby, employees can exchange ideas in meeting rooms, enjoy refreshments in the spacious cafeteria, relax in one of the break areas, or enrich their minds in one of the training rooms.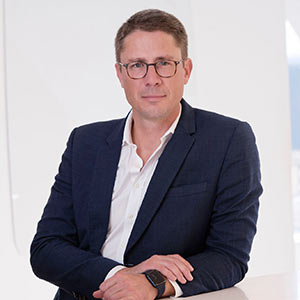 Contact
Sébastien Launay
Head of Corporate real estate