The SIEM, a property company in charge of MACIF's assets, contacted GA Smart Building about constructing a corporate office building in Niort in order to group together two MACIF entities, MACIF Mutualité and SMIP (which has now become APIVIA). The GA Group's expertise in office buildings for insurance companies, its commitment to quality and and its reputation for meeting deadlines convinced MACIF to delegate the construction of this new 10,000 m² 6-storey building to GA.
Sophisticated proprietary GA techniques
To achieve the goal it was assigned – completion of a turnkey building in just 11 months – GA Smart Building brought its know-how into play and proposed a LEIGA structure made of concrete, prefabricated in one of its plants.
For the façade GA opted for white polished concrete alternating with exposed aggregate concrete made with a concrete surface deactivating agent.
GA Smart Building air treatment modules and triple-glazed double windows with integrated blinds were added.
The building's energy management is handled by Galaxy Pilot®, developed by GA to analyze a building's consumption and generate energy savings while at the same time ensuring the users' personal comfort and convenience.
Reconciling work and well-being
The building, which has a lobby on each floor plus two wings for each of the entities, comes as an addition to a previously existing property complex.
The building houses a large mail processing room for SMIP on the ground floor and has a large terrace on the first floor.
To ensure the quality of life at the workplace, the premises were designed in partnership with the Architectes Associés Jean-Pierre Renaud firm to ensure a balance between open-plan and partitioned offices and thereby foster interaction between employees.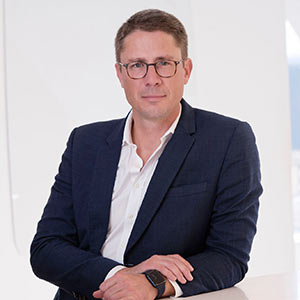 Contact
Sébastien Launay
Head of Corporate real estate