This 13,200 m² building with 2 basement levels and 7 floors was built for the Inter Mutuelle Assistance mutual insurance company. It houses close to 7,500 m² of offices and a company restaurant, and has a car park and several terraces. Its façades are made of different types of concrete and other materials, giving the building a unique architectural character.
A soil that is tricky to work on
The specific nature of the project, the chalky soil in the city centre of Niort, is considered particularly delicate. Prior to digging the foundations, the continuity of the soil had to be tested to make sure there was no karst void (a situation in which rock is dissolved by hard water).
Efficient technical processes
Once the green light was given, the GA Group brought its expertise into play and proposed a LEIGA structure made of concrete, prefabricated in one of GA's factories, with several types of facings for the façade: polished concrete, patterned stamped concrete and painted concrete. For some of the surfaces it was decided to employ Alucobond, a type of cladding that uses two aluminium sheets coated with resin.
Efficient energy management
Designed in partnership with the Architectes Associés Jean-Pierre Renaud firm, the IMA building incorporates all the innovations conducive to saving energy. Environmentally friendly, without ever losing sight of the comfort users expect, the building's energy management benefits from Galaxy Pilot®. As added proof of this commitment to energy efficiency, solar panels supply the company restaurant with hot water.
Work and well-being, two compatible notions
To improve employees' well-being in the company, special attention was devoted to working conditions. Terraces, glass-covered metal walkways with balconies giving out onto the outside, and a green roof over the car park make for a harmonious, attractive building. A shower and change room facility will be put in for employees who bike to work or exercise during breaks. In the offices, the acoustics were carefully studied to allow mixed use of the spaces and meet the requirements of new forms of work organization. Open-plan offices equipped with privacy pods where employees can isolate themselves or meet informally in small groups highlight the fact that well-being at work is at the centre of the company's preoccupations.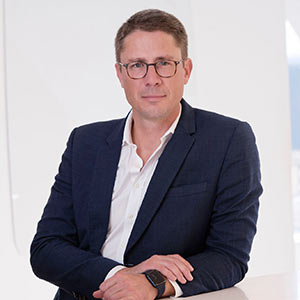 Contact
Sébastien Launay
Head of Corporate real estate