It was in Bezons, in the heart of Val d'Oise (95) that GA Smart Building delivered Camille Doncieux, an office building with a total surface area of 8,000 m².
It was partly sold to AB Habitat, the Office Public de l'Habitat d'Argenteuil-Bezons [Argenteuil-Bezons Public Housing Agency] and partly occupied by Pôle Emploi [Job Centre]. Designed by the Jean Philippe Le Covec architecture agency, the property complex currently offers a single 607-m² floor available for sale and rental on the second floor of the Delambre building, that can be divided into two 300-m² lots. To complete the offer, 10 parking spaces remain for rent.
An ideal location
Located along the Seine, at the intersection of Quai Voltaire and Rue Delambre, the site enjoys a pleasant view of the river. It stands at the gateway to La Défense, and is easily accessible by public transport a well as by car. It is connected to tramway line T2, at the exit of which users can take a bus directly to the building. The capital's road network provides virtually immediate access to the A14, A15 and A86 motorways.
Well-managed energy performance
The office complex is HQE® BBC certified and boasts annual energy consumption below 40 kw per square metre. GA has undertaken to guarantee a limit on consumption under an Energy Performance Contract. The Camille Doncieux building was built using the GA Group's innovative know-how, including the assistance of Galaxy Pilot®. This technology combines the use of efficient equipment with computerized centralized technical management (CTM), which reduces the operating costs of buildings. Energy is thus consumed rationally, while guaranteeing great comfort and convenience.
Know-how that respects new forms of work organization
The GA Group's expertise is also found at different levels of the construction of the building. GA processes are employed in the air treatment modules and the triple glazed picture windows with integrated power-operated blinds. The building's technical features all meet the standards of a new real estate programme: 18 m deep office plates, drop ceilings and technical floors, and 2.70 metre floor-to-ceiling height.
Built to the standard of a 5th category publicly accessible building, which guarantees a high level of security, the Camille Doncieux building is open to receive the public.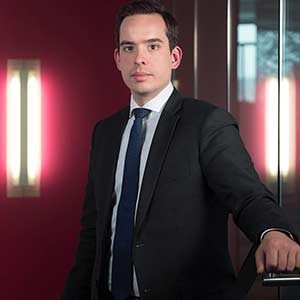 Contact
Victor Katchoura
Deputy Program Director