On behalf of Covivio, formerly known as Foncière des Régions, developer and 50% co-investor with Aéroports de Paris, GA Smart Building delivered Belaïa, an office building located in Cœur d'Orly, the business district of Paris-Orly.
With total surface area of 23,500 m² (21,200 m² of offices, 1,300 m² of inter-company restaurants and 1,000 m² of shops on the building's ground floor), divided between G+5, with 2 levels of infrastructure parking, Belaïa blends ideally into its urban environment. Located at the foot of the T7 tramway, the building immediately neighbours the mechanised footbridge that connects Cœur d'Orly to the airport terminals in less than 6 minutes.
A real estate project initiated in 2008 resumes
While the project itself took root ten years earlier, the building design process did not begin for GA Smart Building until June 2017. At the end of the study and preparatory works phases initiated at the end of 2017, GA Smart Building, in conjunction with the architect Ateliers 115, applied for a modified building permit in December 2017, the first step toward signing the technical design-construction contract, in late-May 2018, immediately after the awarding decision.
Belaïa, an office building that embodies all of GA Smart Building's expertise
With the target delivery date at the end of July 2020, the Belaïa project makes use of all the technical solutions that have become the signature of GA Smart Building. The proprietary process FullBIM developed by GA, which has rendered the Belaïa office building in a 3D digital model, makes it possible for all stakeholders to gain a unique understanding of its ins and outs, at every stage of the project. Initially built in-factory, the pre-fabricated concrete structural components and equipment are delivered subsequently and assembled on-site.
Just the right balance between hard work and well-being
With an inter-company restaurant, 492-space car park, employee services, indoor garden, terraces, flexible and landscaped office floors, modular spaces, 2.70-metre high ceilings throughout, and more, the Belaïa office building offers employees working conditions of the highest international standard. Belaïa marks the second phase of the development operation "Le Rectangle", launched in 2014 with the construction of a first office building, Askia, which will culminate in the construction of a third and final building.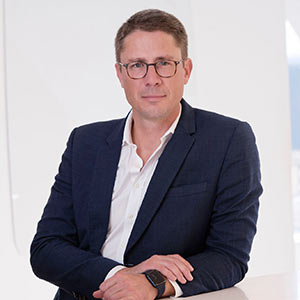 Contact
Sébastien Launay
Head of Corporate real estate