The new Denjean Logistique building comprises a logistics warehouse, offices and technical premises, within the Saint-Jory industrial zone (31).
A relationship of trust and good mutual knowledge had already been established between GA Smart Building and Denjean Logistique. The GA teams supported Denjean Logistique in a proactive approach to develop their industrial process and specifications. As a player in the industrial sector itself, GA Smart Building quickly understood the challenges of this new mixed logistics and tertiary building.
In collaboration with CDA Architectes, GA Smart Building will therefore execute a logistics warehouse of 10,000 m² as well as 600 m² of offices, 200 m² of social premises, 250 m² of loading premises, and 20 m² of security posts and technical premises, on behalf of Denjean Logistique.
The mixed logistics and tertiary complex will extend across existing land that is already occupied, making it possible to reduce soil artificialisation.
The works started in mid-May 2022 for a scheduled complete delivery of the building at the end of December 2022, i.e., 8 months later.
A logistics building constructed using an off-site industrial approach
An atypical real estate player, GA Smart Building has been developing an industrial off-site construction approach for many years. All structural components are produced in the Group's French factories before being transported and assembled on-site.
For this logistics project, GA Smart Building has relied on its INTERTEC concrete framework process as per the technical evaluation. Initially, GA Smart Building's design office modelled the project in 3D. Then the posts, beams, and the complete structure of the mixed logistics and tertiary real estate complex are built off-site at the PREGA plant in Labège, located only 30 kilometres from the site. As a result, travel is limited and interference is reduced to its strictest minimum, preventing congestion in cities.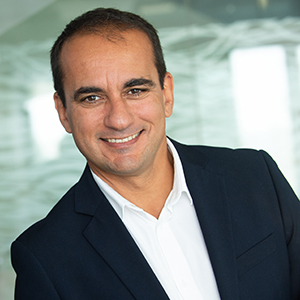 Contact
Kader Guettou
Managing Director, Enterprise Unit