The Choiseul building was completed on December 16 2014, nearly two years to the day after the GA/TOPOS architecture group was chosen by the naval construction department DCNS (Direction des Constructions Navales Services et Systèmes) as the winner of a design and construction competition.
Accent on aesthetics
Located at the entrance to the DCNS site, the 3-storey building spans a floor area of 8,223 m². It houses offices, laboratories, and test platforms where control systems for frigates are reproduced.
Choiseul was built to replace buildings that were demolished to make a clean sweep. Everyone entering the site is required to pass through the building to be given a badge. For this reason, special attention was given to the building's external appearance. On the first and second storeys a metal awning runs along the main frontage, and the ground floor sports a metal facing.
The structure was built with GA's industrial know-how, which includes construction components prefabricated in the factory (beams, posts, floors, facing slabs, etc.). This special process met the essential constraint of a structure erected in the heart of an occupied industrial site. Hence one of the objectives was to reduce any ensuing nuisances and cut down on construction time, which was fixed at 10 months.
Strong security constraints for a sensitive site
It is at the heart of the Lorient site that the French Navy's frigates are assembled, so the notion of military secrets is not to be taken lightly. Security is a priority here and the guaranteed level is as high as it can be. Choiseul was designed and built to protect the site from intrusions by means of state-of-the-art systems of access control and video surveillance.
To ensure energy efficiency, Choiseul is covered by an energy performance contract. Local partner companies were chosen to carry out all the additional work, such as electricity, heating and plumbing – a concrete and efficient way to integrate the site into the local economic loop.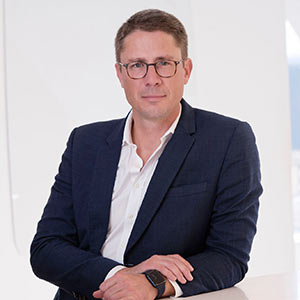 Contact
Sébastien Launay
Head of Corporate real estate