Rehabilitating a prestigious Haussmann style building in the heart of the 8th arrondissement into an office building was a challenge that GA Smart Building tackled in 2012 for Standard Life Investments. In this 2,200 m² building previously owned by the French Ministry of the Interior, the project consisted in preserving the building's prestige and its character as a private mansion while at the same time adapting it to modern standards of new modes of work.
Harmonizing restoration and respect for heritage
Regarding the existing structures, the architectural firm BOMA and GA Smart Building put their joint expertise together to determine which of the wooden staircases should be rehabilitated. Two staircases were kept and updated, one of them a monumental one that was extended up one storey by a metal structure with mirror cladding incorporated on the underside. The mirror effect that emerges remains faithful to the original intentions of the architects of the period.
Adapted to new forms of work organization
On the first and second storeys, on the Rue Cambacérès side, the building's historic qualities took centre stage, with beautiful wooden floors, exceptionally fine mouldings on the ceiling and small offices everywhere. To adapt the premises to collaborative work and create open-plan offices, some of the bearing walls were demolished. The structures were reinforced by means of metal portal frames, which meant that partitions could be broken down and the space opened up, thereby creating a large floor plate on each level.
Carefully made finishings
The building was restored in a workmanlike manner, the wooden floors were sanded and then sealed, while the mouldings on the ceilings, damaged by wear, were reproduced. The single glazed windows were replaced by far more effective double glazed panes, while safeguarding the aesthetic quality of the original woodwork. Lastly, all the façades were given a facelift and the zinc and slate roof cladding was updated.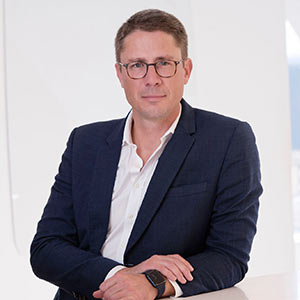 Contact
Sébastien Launay
Head of Corporate real estate