Working on behalf of Foncière Partenaires, a fund dedicated to two French life insurers and managed by BNP Paribas Real Estate, GA Smart Building has produced a corporate building spanning 20,300 m². The Bertrandt Group occupies an area of 7,400 m² on the first three floors at Neo. The remaining 60% of this corporate building located in Vélizy are in the process of commercial release.
Designed by architect Anthony Béchu & Associés, known in particular for his renovation of the Olympia in Paris in the mid-1990s, Néo was the fruit of a fifteen-month project. In addition to the 20,300 m² of office space, this new-generation corporate building offers 690 underground and elevated parking spaces. A corporate restaurant is on-site, offering 1,060 covers for all employees.
The assurance of optimised energy performance
To wit, the Inter-Company Restaurant is served by a high-efficiency reversible heat pump. Attesting to the Group's constant attention to sustainable development, some 70 m² of solar panelling has been installed on the roof. It produces the hot water which then enables the RIE to operate autonomously.
Designed to be pleasant to live and work in, the offices of the Neo business building in Vélizy are managed using Galaxy Pilot® a technology developed by GA Smart Building. The building's thermal break bays, electric blinds and low consumption lighting are monitored and adjusted in real time to optimise employee comfort while keeping their energy consumption to a minimum.
Accordingly, the corporate building earned its HQE tertiary building certification in 2008 and its BBC Effinergie certification in 2005.
A corporate building with a prime location
Néo is ideally set on Avenue Louis Breguet, in Vélizy, in the Yvelines. It stands adjacent to the A86 and is within convenient access of the T6 tram line. It includes the full range of associated services that make this structure a next-generation business building.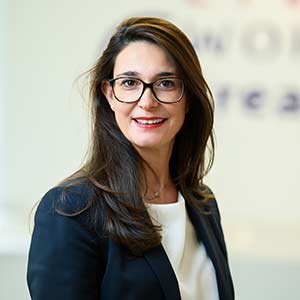 Contact
Delphine Fontaine
Director of Business Development Île-de-France