The main building is the outstanding feature of this property complex designed by the architect Jean-Paul Viguier, with its three main sections of 3- and 4-storey buildings, 620 underground parking places, 36,000 m² of floor space, and 800 m² restaurant. Canopée, the new 18,000 m² headquarters of Sodexo France in Guyancourt, is one of the GA Group's emblematic buildings.
The HQE® THPE-certified building is exceptionally transparent, can adapt to changing needs and keeps energy consumption particularly low. Grassy terraces and a vegetable garden have been integrated into the site. While creating an ideal work setting for Sodexo France's 800 employees, GA focused its building approach on the environment.
The environment at the heart of preoccupations
"Canopée" is French for canopy, which designates the upper layer of a tropical rainforest, the layer that is in direct contact with the atmosphere. Home to a large number of plant and animal species, the canopy contributes to the balance of nature. The name resonates with the chief preoccupation at work on the site: to give the building an exceptional level of environmental performance. Thus seven targets were pursued rather than the usual three imposed by the HQE standard. As a result of this demanding requirement, Canopée earned the THPE (Very High Energy Performance) label. Committed under an energy performance contract to limiting the site's consumption, GA guarantees that the energy bill will not exceed 40 kWh per square metre a year for heating, air cooling and ventilation, and 15 kWh per square metre a year for artificial lighting.
Substantial savings on energy
Canopée's remarkable energy efficiency relies on an overall energy management solution: Galaxy Pilot® (Active Computer-Aided Management of Energy Efficiency). In addition to taking particular care with insulation and thermal inertia, GA implements Centralized Technical Management (CTM), thereby optimizing the efficiency of energy equipment based on the building's parameters, occupancy of the premises, and the abundance of sunshine.
Combined with triple-glazed double picture windows that feature structural glazing and integrated motor-operated blinds, and with remote-controlled individual reversible heat pumps, the equipment as a whole brings overall energy consumption down to less than 40 kWh per square metre a year.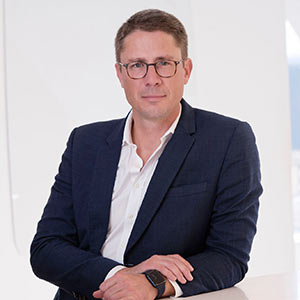 Contact
Sébastien Launay
Head of Corporate real estate