GA Smart Building's new headquarters, which doubles as a showroom and a laboratory for the Group, showcases GA's know-how in professional real estate. Initially designed to improve the quality of life at work, the Agua office building guarantees users' thermal and acoustic comfort as well as providing visual and aesthetic comfort.
Agua combines work and well-being at the heart of the company
Because well-being at the job fosters efficiency, every employee has a brightly lit workspace that is warm and friendly, and whose temperature and lighting they can configure themselves. While open-plan offices foster communication between departments, staff members can also seek privacy, relax or do team work in one of the 48 connected meeting spaces made available to them. When it is time for a break, there are two areas where they can socialize and get a bite to eat, and a roof-top area where they can get a breath of fresh air while enjoying an unobstructed view of the Pyrenees. To further improve well-being at work, special pains were taken to ensure good lighting: 100% of all the offices receive natural daylight, glazing is full height, and at every workstation there is a GASIDE light fitting (developed by GA) which adapts its intensity to the natural light. Acoustic comfort is ensured by suspended panels.
Agua, the smart building
Agua, which is certified with the HQE Excellent label, is the first tertiary building in France to be labelled Bepos-Effinergie®, it operates with positive energy, producing more energy than it consumes. The building's energy coordination is supervised by GA's energy management software Galaxy Pilot® and functions under an energy performance contract. For the items related to comfort, the actual energy consumption is below 25kWh per sq m a year. And the unused surplus of the photovoltaic production is reinjected into a smart grid. With its control of comfort and energy, artificial intelligence, positive energy and Smart Grid, the 3,500 m² building offers a unique glimpse of GA Smart Building's vision and know-how-in corporate real estate.
Its construction allowed GA to develop and try out the FullBIM process in full scale.
Agua was awarded the SIMI 2015 Grand Prize for Office Buildings in the category of New Builds under 5,000 sq m end. Agua also wins the international Smart Building Prize of 2016 Green Building Solutions Awards.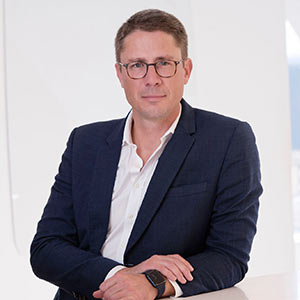 Contact
Sébastien Launay
Head of Corporate real estate