For the headquarters of the Société Alsacienne de Fabrication (SAF), which produces stoppers and caps for luxury cosmetics firms such as Chanel and Dior, GA built this factory housing injection moulding machines, among other things, in just 7 months.
A deeply involved project owner
SAF is a family-run company whose previous facilities were set up on two sites with offices located in a small house set apart from the factories. The founder, Paul Ries, had to cope with a paradoxical fact: his business was growing while his production units were becoming obsolete. Ries approached GA to have a turn-key design-build study carried out on two different plots. When the two block plans were presented, the GA teams were surprised to learn that the founder had already prepared 40 plans of his own. The project owner's work was then incorporated, thereby signalling the launch of this 8,000 m² scheme, which led to an intense design phase, the key to the success of the construction of any industrial building.
Luxury goods, a sector that involves major constraints
If a mere speck of dust gets into a jar of face cream, the whole pallet of jars has to be discarded. For this reason, GA conducted an in-depth study with a view to designing a heating and air handling system free from any dust residue.
In addition, the moulds used in the injection moulding machines to manufacture stoppers proved to be very precious. Stoppers are custom-designed as orders are placed by luxury goods companies. A small concrete bunker was therefore built where moulds could be preserved, stored and kept secure.
Furthermore, a laboratory that reproduces air pressure conditions was assembled to enable the company to test the stoppers' leak-tightness in the most hostile conditions.
Well-being and efficiency at work
The building is made entirely of concrete and is equipped with a sprinkler system to protect it against outbreaks of fire. This led to a great saving on the insurance premium, which was halved. On the first floor of the high-bay factory building, technical offices were built along an access balcony that opens out onto an inner balcony overlooking the production area. For the head offices, GA, in collaboration with the architect Pircher, designed a cube resembling a black stopper surmounted by an arch made of grey washed crushed stone, giving the whole structure an effect of granite.
To facilitate air circulation and maintain a comfortable ambient temperature, the building features a façade made of Alsace II type concrete panels and curtain walls forming large floor-to-ceiling glazed sashes that allow natural daylight to flood in.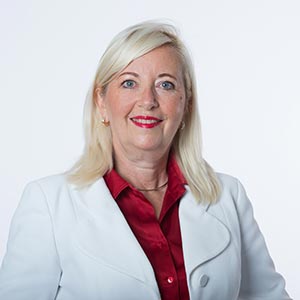 Contact
Corinne Deiss
Commercial Director Real Estate Development Great' Est