Health and patient care is being revolutionised with the development of e-health and outpatient services. The contract awarded to GA Smart Building for the design and construction of a stand-alone outpatient surgical unit on Europe's largest hospital site at Pitié-Salpêtrière was hailed by GA teams as a first step in the Group's strategy to develop its services in the hospital sector.
The new unit specialising in short-term care will extend across nearly 2000 m² and include five operating theatres, a post-surgery recovery room with eight beds and 14 day hospital spaces.
Designed by TLR Architecture, the contemporary architecture of la Pitié-Salpêtrière's outpatient surgical unit reinterprets the design of neighbouring buildings and fits perfectly into the historic Pitié-Salpêtrière site. The firm Getinge Maquet has signed on to develop the modular and integrated layout of the operating theatres. Specialist engineering firms AEC Ingénierie and Beming worked alongside the teams of Hervé Thermique responsible for air-conditioning and plumbing works.
For this structure of an all-new kind, GA Smart Building will be applying the its widely-renowned industrial approach: Unique know-how that has enabled it, after only 7 months of works, to deliver the building, in April 2018.
The industrial construction process here limits pollution in all forms on an occupied site
The site was designed entirely using FullBIM, the digital model that can send 3D-data in real time to factories.
For this project, GA called on its factories in Rouen and L'Aigle to produce all the component parts, which were then shipped by lorry and assembled on site.
All the structural elements of the building were thus factory-produced to optimise delivery times while limiting the amount of disturbance. A reinforced concrete post and beam construction ensures the building is durable and adaptable to future expansion. The exterior wall panels were prefabricated and faced with brick.
Concrete pouring on-site was kept to a minimum, as a means of limiting noise and dust to local residents and disturbance to the hospital patients.
Smooth processes, flexibility and a modular structure, for the most effective care provision
Inside, special attention has been paid to the care pathway, prioritising a go-forward principle from entering through to leaving the unit. The design of the different areas also contributes to overall patient treatment quality. To promote comfort and well-being, pre-surgery waiting areas and post-surgery recovery rooms have been designed to feel restful and welcoming.
The layout of the building will be flexible and designed to facilitate future expansion. The operating theatres and waiting rooms can therefore be modified in accordance with the needs of hospital departments.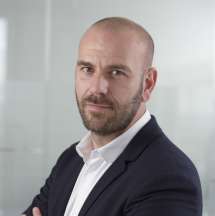 Contact
Jean-Baptiste Laisney
Head of Health Development