After building the martial arts centre in Gennevilliers ten years ago, the GA Group continues development in the field of sports and is working twice as hard. GA has been entrusted with building a high-end sports complex for the Stade Rochelais, a rugby club that plays in the first professional division. This is an honour for the Group, whose head office is in the Midi-Pyrénées, at the very heart of the cradle of the world of rugby.
GA Smart Building, a deeply involved builder
Built as a match preparation facility for the team's 40 or so professional players and younger hopefuls, the Stade Rochelais Performance Centre was finalised after 8 months of works, in August 2017, in time for the club to kick off the 2017-2018 season under optimal conditions. Shaped like an L, the G+1 building was designed in partnership with the agency Architectes Associés Niort. The centrepiece is a half-pitch training ground with a 3,000 m² covered playing surface that opens onto the outdoors and features synthetic turf, so that the team can practice anytime, whether rain or shine. As to the building itself, GA Smart Building put its know-how to work around the all-concrete principle chosen at the outset, providing for high thermal inertia, including panels prefabricated in the factory for perfect insulation.
The art of the custom-made structure at the service of performance
Made up of two wings, the building accommodates all the administrative management and training services a professional club can require, plus a knowledge training centre. For the pros on-site, all the equipment required to perform at top competition level has been built in. From weight training to cardio training and physical therapy, all the essentials are in place, as well as a specially-outfitted hydrotherapy centre. The latter houses a 4×8 metre swimming pool, heated at 26-27 degrees, with an integrated upstream current generator to work the upper body. Two small adjacent basins, one heated at 37-38 degrees, the other at 7-8 degrees, enable players to alternate hot and cold for better physical preparedness. The wing dedicated to the training centre has smaller-scale equipment, dedicated to weight training and physiotherapy.
From the "workplace" area, set one story above the ground floor, the supervisory staff oversee administrative operations for Stade Rochelais. This is also the floor on which the restaurant and video centre is located, the latter enabling match replays and training session analysis, along with living and relaxation areas.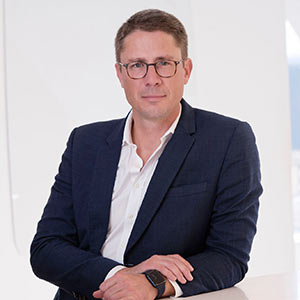 Contact
Sébastien Launay
Head of Corporate real estate