Eight months after joining the GA Group, Sébastien Matty is setting up a new organization designed to support the group's development.
Four of the group's managers are assuming responsibility for running operational clusters.
Frédéric Celdran is taking over the management of Promotion and Services.
His task is to develop the activity of GA Promotion throughout France. He also manages the GA Services entity dedicated to building management.
Kader Guettou is taking over the management of Construction, which is made up of GA Entreprise, the GA Group's general business, and GA Renovation, which carries out renovation operations on property assets, mainly through the Newskin process.
Bertrand Bousquet is taking over the management of the Industry cluster, with the group's five prefabrication plants, the first link in the chain of GA's know-how. Three of the factories produce concrete components, the other two produce the group's technical equipment and high-tech aluminium façades, respectively.
François Minck is taking over the management of the Engineering hub with Omega, the group's in-house research department, which is developing FullBIM by GA, a digital model that is fully integrated, from the design stage all the way to building operation. He is also in charge of developing the group's business in the provinces.
Two new managers are joining the GA Group:
Aurélien Ngangue is joining the GA Group as the Director of Key Accounts France.
His brief is to develop the group's presence in all its business lines among key occupiers and institutional investors.
Aurélien Ngangue graduated from ESCC and holds a Master's in Finance from Sciences Po in Paris. Previously he held the position of sales manager at Spie SCGPM, he then joined the Bouygues Group as Sales Director of Bouygues Bâtiment Private Construction, and went on to create the Central Sales Department of Bouygues Bâtiment Ile de France Private Markets.
Elodie Le Breton is joining the GA Group as the Director of Communication and Marketing.
She is in charge of internal and external communication as well as strategic and operational marketing. Her task is to support and promote the group's dynamic.
A graduate of the Institute of Political Studies in Lille who holds a Masters in Political History from Sciences Po Paris, Elodie Le Breton began in the Marketing Department of Bouygues Immobilier, assuming responsibility first for the Brand and then for Sales Communication, and went on to become the Public Relations and Press Relations manager.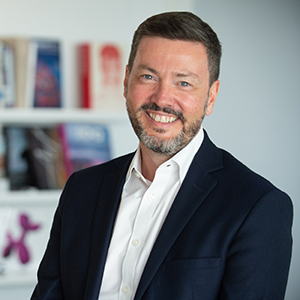 Sébastien Matty
Chairman of GA Smart Building
The new organization aims to support the group's growth. It represents continuity while at the same time finding levers for reinventing ourselves every day and offers our customers ever more innovative solutions and products.