GA Smart Building has just won the contract to build the "Marseillaise" site, at Porte de Pantin in the 19th arrondissement of Paris, further to the "Réinventer.Paris 2, les dessous de Paris" competition.
Borne by GA Smart Building, "Cité Universelle" is a manifest as much as a project, designed to symbolise universal accessibility, an idea set in motion by Ryadh Sallem, a high-level athlete, association activist, entrepreneur in the Social and Solidarity Economy and Ambassador to Paris 2024.
An architectural postulate for universal accessibility
Co-designed by architectural agencies Baumschlager Eberle Architekten and INEDIT, Cité Universelle is a property complex covering nearly 30,000 m²: an expression of movement, it ensures the continuity of the public space around the building with an ascending and circular external promenade. With its clear lines and transparent façade, the Cité Universelle marks the Parisian landscape and dialogues with all the surrounding buildings, in particular with the Philharmonie de Paris.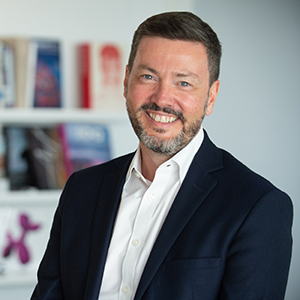 Sébastien Matty
Chairman of GA Smart Building
The Cité Universelle project is an emblem, a collective response to a very specific urban and human situation. It demonstrates our ability to design buildings differently -- intelligent and sustainable buildings. We have a responsibility to build the city of tomorrow by proving that it is open to all, inclusive and responsive to everyone's needs. This major and engaged project attests to our dedication to developing projects that have a positive impact. It is a new stage in the development of our Group.
Beyond the architecture, the planning concepts also respond to the desire to ensure accessibility for everyone.
An inclusive ecosystem, composed of 4 hubs
On Sports Hub forms the programme's first pillar. It was designed to support the development and professionalisation of handisport. A training venue designed and sized to host Paralympic disciplines and CAPSAAA sports sections, it will also be used to host national and international competitions, particularly in preparation for the 2024 Olympic and Paralympic Games. Its 1,000-seat capacity, 20% of which are accessible to people in wheelchairs (where the regulations require 2%), makes it unique in Europe and will complement the Olympic legacy of Paris 2024. Its modularity will also enable it to transform into an event infrastructure and host a wide range of exceptional occasions.
For sporting activity, the Cité Universelle boasts a Health and Well-Being Cluster designed in accordance with the needs of Cité Universelle's daily users, as well as those of local residents and workers. This Cluster will offer a fitness spa and medical practice, operated by IPSO Santé, open to all populations, regardless of income or degree of capacitation. IPSO Santé will be assisted by the association CoActis Santé to ensure that those with disabilities, too, receive the care they need.
Thanks to its strategic location and hyper-accessibility, Cité Universelle will also offer a Work'in Cluster, designed to bring together two worlds: that of the disabled and that of the non-disabled. The centre will include a co-working area, operated by Startway, with 16,000 m² in office space. It could also host the headquarters of the Handi Tech association, dedicated to uniting, coordinating and promoting all players working in innovation or support for innovation, and to serve those with disabilities or impaired autonomy. Handi Tech will use Cité Universelle as a large-scale laboratory for its solutions.
The Hospitality Cluster and food services round out the ecosystem with: a 109-room apartment hotel operated by Louvre Hotels, all of which can be entered in wheelchair, 55 wheel-chair friendly studios and a number of medically-equipped rooms, a 1,000 m² planted rooftop, the agricultural production of which will supply the restaurant "Les Turbulentes", and a neighbourhood grocery store on the ground floor.
AEW, an investor partner of GA Smart Building, acquired the entirety of Cité Universelle, using an SRI (Socially Responsible Investment) vehicle.
The existing pre-park on the site will return to its place in the basements of the building and the related car parks will be redeployed as backup parking for the site's employees and operators. These underground areas are designed to accommodate changes over time, as new usage patterns develop.
Beyond its architecture and planning principles, the concept central to Cité Universelle is that of accessibility. Thanks to the work performed by Handigo, an architectural firm specialised in accessibility, the building is designed so that accessibility, participation and comfort are the same for all audiences, and so that the needs of people with disabilities – whether motor, sensory, psychological or cognitive – are taken into account in all their implications. The Cité Universelle will thus be the first new building to gain AAA certification under the LA Accessibility Label issued by CERTIVEA, which carries the most comprehensive accessibility requirements. Numerous labels will also be sought for the building complex, to secure recognition for its environmental excellence, exemplified by a mixed timber/concrete structure. The off-site construction concept, developed by GA Smart Building and its subsidiary Ossabois, will also make it possible to minimise pollution for local residents and deliver the project within an ambitious timeframe, before the 2024 Games.
Program Description
• Sports Centre with a surface area of 4,000 m²
• Work'In Cluster with 15,000 m² of office space spread over 4 levels from the 3rd floor to the 6th floor, a 1,100 m² RIE on the 2nd floor, a co-working space of 1,500 m² and a 700 m² fitness centre on the 1st floor, 2,000 m² of shopping space and a 1,500 m² forum on the ground floor
• A 600 m² Health Cluster located on 1st floor
• Hospitality Cluster with 109 living units – from studio to 2-bedroom – spread over 4,500 m² on G+7 and G+8 levels
• The 4,500 m² pre-park area
A multidisciplinary consortium
• Developer / Builder: GA Smart Building (agent)
• Investor: AEW
• Consultancy: JLL
• Architects: Baumschlager Eberle Architekten et INEDIT
• Programme: Alphaville, "10h11"
• Landscapers: Wagon Landscaping accompanied by the group of urban gardeners "Merci Raymond"
• Partner operators: Louvre Hotels Group, Startway, CAPSAAA, IPSO Santé and the association CoActis Santé, DB Régie, Les Turbulentes, Merci Oscar, Handi Tech and ANRH
• Consulting / Design offices: HANDIGO (accessibility expert), Khephren Ingénierie, Bénefficience and Elithis Ingénierie, CassioP, Tisseyre et associés, BureauVeritas, DAL
Site address : Porte de Pantin, at 15 – 19 rue de la Marseillaise 75019 Paris
Credits: LMNB Rendering for Baumschlager Eberle Architekten and INEDIT